Dog Health Diet
An overweight dog does not look healthy, and this only occurs because of overfeeding, not because they choose this lifestyle. It is only through overfeeding that we make this happen to our pets.
DISEASES CAUSED BY DOG OBESITY
If you want to learn about weight loss for dogs, the first thing you should do is consult your vet and get his approval and advice. That said and done, there are many reasons and tips to help you achieve the goal of a healthy pet.
Obesity in our pets is ultimately our responsibility. After all we are in control of their nutrition. It has become an epidemic that is associated with our own "couch potato" lifestyle. There are many problems that can be caused by obesity in our dogs which can be prevented if they are fed an all natural healthy organic diet. Some of these ailments (which mimic our own problems with over indulgence) include:
JOINT AND WALKING DIFFICULTIES – this is due to added weight and stress put on joints, bones, and muscles. This can cause back problems, hip dysplasia, lethargy, and aggravation of arthritis.
HEART AND RESPIRATORY DISEASES – Obesity causes extra stress on the heart and lungs, making them tork harder than a dog that is physically fit.
DIABETES – This is more prevalent in obese pets.
LIVER DISEASE – This is also associated with obese pets.
SKIN PROBLEMS – Being fat causes difficulty in your pet's grooming ability. Just as overweight humans have trouble reaching their feet to tie their shoes when a fat belly is in the way, a dog can't reach all areas that need self cleaning. Dirt and bacteria can become embedded in fat rolls and cause infections.
STOMACH PROBLEMS – There is a painful and life threatening condition, called pancreatitis, which is seen more and more in obese pets.
Just as the above diseases mimic our own obesity related problems, they are curable or preventable if you keep your dog healthy, active and fed nutrionally premium dog food.
WEIGHT LOSS TIPS FOR DOGS
Putting your pet on a fat reducing diet and increasing exercise, as prescribed by your vet, is the best way to show your love to your pet. There are several high protein, low fat organic dog foods available specifically for your dog's health. Check the labels carefully and make sure you buy the best organic dog food you can afford, with the highest amount of organic ingredients and low fat content.
Elimination of bad high calorie treats and table scraps is the easiest weight loss for dogs tip there is. Extra calories from treats pile up quickly. Choosing the wrong type of high fat, high calorie treat for your dog is not a good practice, so be aware of the difference between good and bad treats. Choose healthy!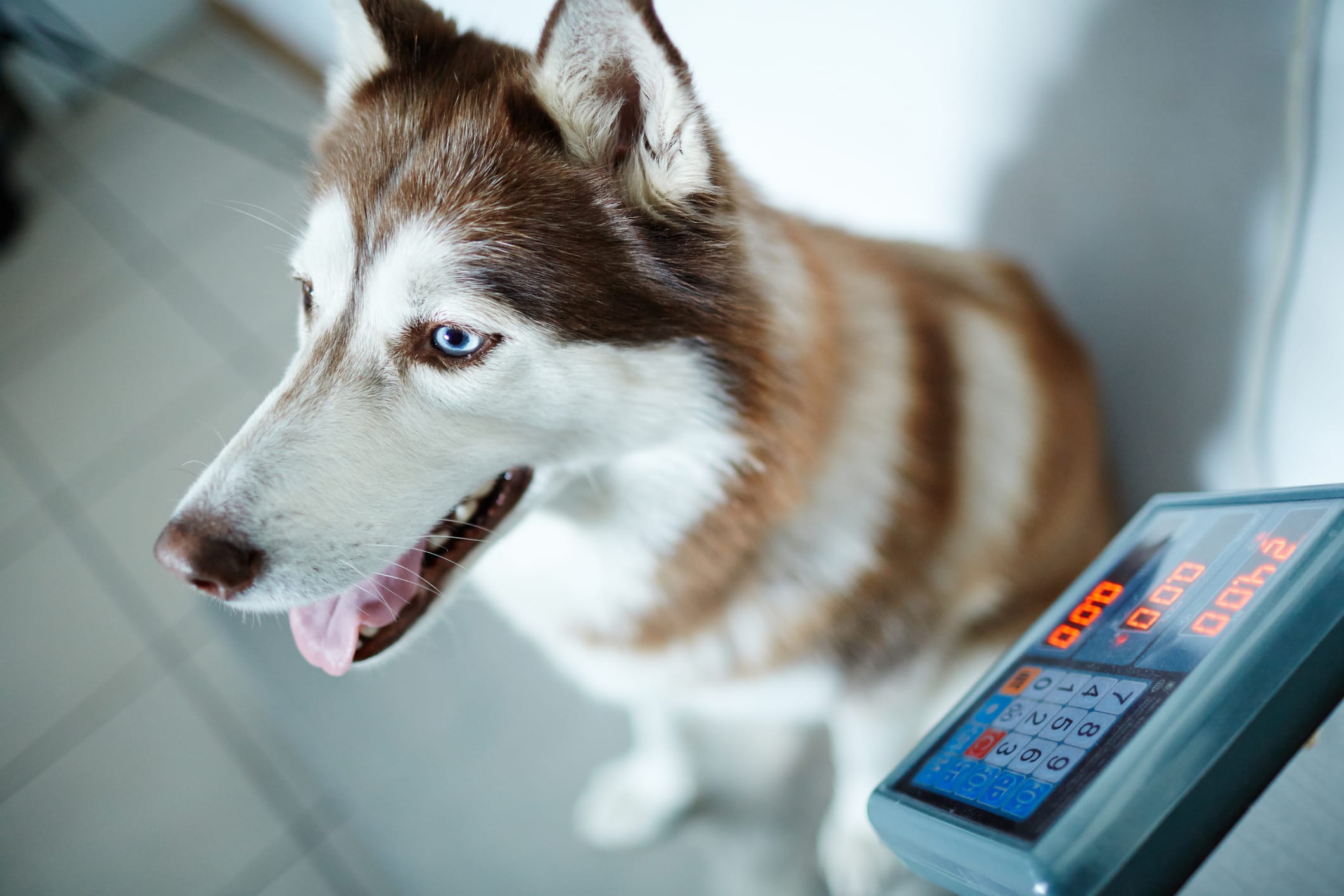 TREATS
At 40 kcals is KARMA ORGANIC DOG TREATS
Bonz treats for small dogs 70 kcals
Milk Bone Dog Biscuit – one large 115 kcals
Fresh Carrot – baby size 3 kcals
Green Beans – 1 cup canned (this in my girls favorite) 25 kcals
Air popped popcorn (1/2 ounce) 54 kcals
1 slice Pizza Hut Cheese Pizza (NOT RECOMMENDED) 259 kcals
20 Dorito brand chips (NOT RECOMMENDED) 260 kcals
At 17 kcals is: MOTHER NATURE NATURAL DOG BISCUITS
At 45 kcals is: SOLID GOLD NATUR-BONE BISCUITS
At 50 kcals is: INNOVA HEALTH BARS – SMALL SIZE
Oreo Cookies – 2 (NOT RECOMMENDED) 130 kcals
McDonalds Quarter Pounder with cheese (YUCK!) 525 kcals
A kcal is a kilo calorie per unit or calorie as we call it in every day terms.
(A 20 pound dog needs 690 kcals daily for optimum health.) A few Doritos here, a Oreo cookie there and sharing a Quarter Pounder will equal your dogs total calorie need for a whole day. This on top of his regular dinner is simply unhealthy and easy to change.
Sometimes, just eliminating the unhealthy treats and going on a daily walk is all that is necessary is helping your pet become fit and energetic again.
Our bond with our pets is extremely special, so always remember that you speak for your pet and give him the best that you are able.